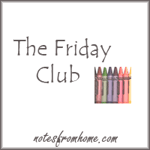 This is my first submission to The Friday Club at
Notes from Home
so please go easy on me!
I've been looking at ways of organising prized possessions in interesting ways that free up space and require minimal dusting (in my house
everything
gets minimal dusting!)
Many of us have collections of things that are neglected in a cupboard or shoved in a box in the loft collecting dust, this is such a shame! If you really like it then get it out on display to enjoy, if not perhaps it's time to ditch it.
My favourite way to present things is in deep picture frames. I wrote a
post
about how I made this using the badge collection I had as a kid and a lot of hot glue. Ikea do cheap box frames that are perfect for this. The benefit is not only do you save valuable shelf space but each little knick-knack won't need dusting.
And this little frame – I think it's meant for thimbles? – was picked up at a car boot sale for £2 and is a perfect home for these Thai amulets (your eyes do not deceive you, that is a monkey on a penis on the left, something to do with fertility...) and seashells that I've picked up on my travels which would otherwise be tucked away in a box forgotten. If you can't find a frame with a grid you could make one to fit into your box frame by slotting some mountboard strips together.
A similar method with a vintage twist is to pop on ebay and get yourself a gorgeous old printer's type drawer like this...
Here are some other ideas I've come across...
Victorian-style domes...
Hang kids artwork, postcards and magazine cuttings from a line with pegs or bulldog clips. This version at
Ohdeedoh
uses a curtain rail.
While on the subject of rails, a plate rail or very high shelf (with a groove cut into it for plates to sit in) is a lovely way to show off a vintage crockery collection. I've also got a thing for over-door shelves – I spotted this ornate one at
Hiphopsideproject.com.
And this one is Ikea's Ribba picture ledge, which is great as it has a lip at the front to prevent things falling if you slam the door.
Ikea is getting a lot of mentions here but I swear this isn't a sponsored post. However, Ikea, if you are reading and want to pay me in meatballs and dime bars then that's fine with me!
And lastly one I couldn't resist. I leave you with something for your inner Imelda Marcos... I present the shoe rolodex. Yes, your shoes can have their own little hamster wheel...
Available from http://tszuji.co.uk/
Here are the other entries in this Organising Tips for the Home Carnival:
Maggy at Red Ted Art posts
How to… make your own Scrapbook/ Artwork Calendar
Cass at The Diary of a Frugal Family posts
How To Be An Organised Mum
Jax at Making It Up posts her tips in
A place for everything and everything in its place
Helen at Cheeky Wipes posts her
laundry tips
Jules at I Need Curtains for the Window in my Head posts her
tips for organising post
Angela at Mum's Survival Guide posts
The Organised Side of Me: Paperwork
.
Ella at Notes From Home posts her
laundry tips
.